In my first week of book blogging I found the most curious book of all to share with you all. The title is

Jasmyn

by Alex Bell, which despite the difference in spelling is my own name, so naturally it captured my attention. I read a summary about it only to be struck by some strange parallels in my own life. The title character

Jasmyn

is 27 years old (I am 27), a young newlywed (I am coming up on my 3rd anniversary with my husband so still newlyweds in my mind though in the book

Jasmyn

has only been married for a year), a widow (thankfully not me), with a brother in law named Ben (which I have!). After that the similarities end but still some mightily close coincidences wouldn't you say? From what I gather from the summary I read the book lends itself to be somewhat of a fractured fairy tale with strange magical events and characters which I must say is right up my alley. I have adored fairy tales since I was a child (my love of reading was born at a young age) and absolutely love

readi
ng

about stories I loved as a child in a different more adult way. Though I am not into horror I have to say I do have a

penance

for things that are

tweaked

ever so

subtly

toward the darker side. (Think Coraline or The Looking Glass War stories based on Alice in Wonderland) Needless to say with the fairy tale element as well as the character similarities this is one book I have to get my hands on!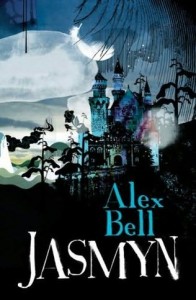 Even the cover reminds me a bit of a fairytale...like Sleeping Beauty's castle in a macabre kind of way.

Another find this week is a book that I have walked by many a time at Border's. The cover itself alone was enough to draw my attention though after reading the back cover the story was also quite appealing. The book is

Luxe

by Anna

Godbersen

. After reading a All Things Royal's review about it I

promptly

added it to my list. As a fan of the show Gossip Girl I have a feeling this book will be combing my love of Gossip Girl and historical fiction and I cant wait to see how it turns out.